You are here
Red Oak Rain Garden

(

In Progress

)
Project History
9/19/2017

The first issue of the F&S Insider includes an article about the Red Oak Rain Garden design efforts this summer.

7/26/2017

Cameron Letterly shared his current design thoughts with the Superintendent of Grounds, Ryan Welch, and the Campus Landscape Architect, Brent Lewis.  Eliana Brown and Morgan Johnston also participated in the meeting.  See attached files.
Description
The Red Oak Rain Garden is the first rain garden on campus!  This garden is beautiful and smart. It addresses flooding in an innovative way – by planting an attractive landscape feature that captures and filters stormwater.
Prior to the garden, the area south of Allen Hall flooded during storms, impacting pedestrian walkways and threatening the red oak tree's vitality. The rain garden directs stormwater away from the oak tree and sidewalks. It uses water as a resource instead of allowing it to rush into storm sewers and flood downstream. The garden plants, which are native to Illinois, have extensive root systems that are excellent at soaking up water and improving its quality. 
Background
Prof. Tony Endress' Restoration Ecology classes designed and installed the rain garden with assistance from Facilities & Services and the City of Urbana and in cooperation with Housing Services.  For additional visual interest, art student Jennifer Astwood designed the "Prairie Fire" sculpures under the guidance of Prof. Alex Fekete.
The Red Oak Rain Garden is a BLUE Illinois Faculty/StudentProject funded by Facilities & Services in conjunction with the Environmental Council, with additional funding support from University Housing.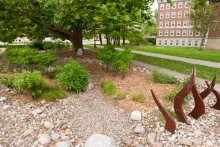 Project Team
Primary Contact:

Eliana Brown

Project Leader:

Cameron Letterly

Team Members:

Ryan Welch
Tony Endress
Cameron Letterly
Karen Folk
Morgan White
Themes