Instructions
This site is a repository for summary information about each iCAP project.  Each project page includes a project description, contact names, funding details, location map(s), metrics and targets to measure success, current status of the project, and regular updates as projects are discussed, approved, and implemented.  The projects are searchable from the search bar in the top right of this screen, or they can be found by browsing through the main categories listed on the left.
Featured Projects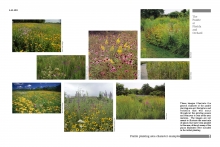 Several native planting projects are championed by student and community groups including Grand Prairie Friends, Red Bison, Students for Environmental Concerns, Allerton Allies, East Central Illinois Master Naturalists and the Student Sustainability Committee.
Campus is recognized as a Tree Campus USA, as of 2015.  This program recognizes college and university campuses that effectively manage their campus trees, develop connectivity with the community beyond campus borders, and strive to engage their student population utilizing service learning opportunities centered on campus and comunity, forestry efforts.  At Illinois we recognize that trees are an important asset for our campus and the community.