Instructions
This site is a repository for summary information about each iCAP project.  Each project page includes a project description, contact names, funding details, location map(s), metrics and targets to measure success, current status of the project, and regular updates as projects are discussed, approved, and implemented.  The projects are searchable from the search bar in the top right of this screen, or they can be found by browsing through the main categories listed on the left.
Featured Projects
Campus has submitted an application to be recognized as a Tree Campus USA, as of 2015.  This program recognizes college and university campuses that effectively manage their campus trees, develop connectivity with the community beyond campus borders, and strive to engage their student population utilizing service learning opportunities centered on campus and comunity, forestry efforts.  At Illinois we recognize that trees are an important asset for our campus and the community.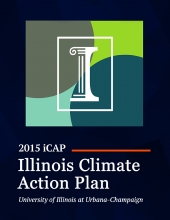 In 2008, our campus signed the American College and University Presidents' Climate Commitment, formally committing to become carbon neutral as soon as possible, and no later than 2050. The first Illinois Climate Action Plan (iCAP) was developed in 2010 as a comprehensive roadmap towards a sustainable campus environment. The present 2015 iCAP was developed using the Procedure for Formulating and Evaluating Campus Sustainability Policies & Initiatives,with many 2010 iCAP targets restated or revised and new targets added.