Instructions
This site is a repository for summary information about each iCAP project.  Each project page includes a project description, contact names, funding details, location map(s), metrics and targets to measure success, current status of the project, and regular updates as projects are discussed, approved, and implemented.  The projects are searchable from the search bar in the top right of this screen, or they can be found by browsing through the main categories listed on the left.
Featured Projects
The Campus Bicycle Center — a collaboration between the University of Illinois and The Bike Project of Urbana-Champaign — is dedicated to empowering individuals with knowledge about how to repair and maintain bicycles and encouraging mode-shift away from single-occupancy vehicles.  This educational center offers hands-on experiential learning that students can't get in a classroom.  By empowering people with the ability to fix a bicycle and providing a connection between the campus and the community, the Bicycle Center promotes bicycling, collaboration, and community spirit.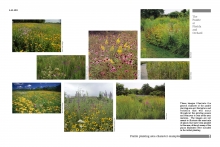 Several native planting projects are championed by student and community groups including Grand Prairie Friends, Red Bison, Students for Environmental Concerns, Allerton Allies, East Central Illinois Master Naturalists and the Student Sustainability Committee.