Instructions
This site is a repository for summary information about each iCAP project.  Each project page includes a project description, contact names, funding details, location map(s), metrics and targets to measure success, current status of the project, and regular updates as projects are discussed, approved, and implemented.  The projects are searchable from the search bar in the top right of this screen, or they can be found by browsing through the main categories listed on the left.
Featured Projects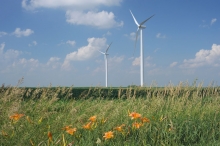 From November 2016 through October 2026, the Urbana campus will receive a percentage-based portion of the wind-generated electricity and associated environmental attributes from the Rail Splitter Wind Farm located north of Lincoln, Illinois. The power purchase agreement (PPA) specifies that 8.6% of the total wind generation from the farm will be sold to the university, which is expected to be an annual amount of more than 25,000 megawatt-hours (MWh).
The Student Sustainability Committee (SSC) is a student-led campus committee charged with the distribution of two student fees: the Sustainable Campus Environment Fee and the Clean Energy Technologies Fee. With the ultimate goal of making the University of Illinois at Urbana-Champaign a leader in campus sustainability, SSC reviews, recommends, and funds projects that increase environmental stewardship, inspire change, and impact students.