Instructions
This site is a repository for summary information about each iCAP project.  Each project page includes a project description, contact names, funding details, location map(s), metrics and targets to measure success, current status of the project, and regular updates as projects are discussed, approved, and implemented.  The projects are searchable from the search bar in the top right of this screen, or they can be found by browsing through the main categories listed on the left.
Featured Projects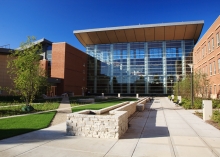 The University has adopted LEED Silver certification as a part of the Facility Standards on new construction.  Facilitites & Services tracks LEED status for new buildings and major recontruction.
The Student Sustainability Leadership Council (SSLC) is iSEE's finger on the pulse of student-led initiatives in sustainability. SSLC — made up of the leaders from numerous campus student organizations focused on sustainability and environment — is a place for student leaders to interact and collaborate. It is also the bridge between iSEE and the student body, serving as a two-way conduit of information and concerns about campus sustainability issues.