Instructions
This site is a repository for summary information about each iCAP project.  Each project page includes a project description, contact names, funding details, location map(s), metrics and targets to measure success, current status of the project, and regular updates as projects are discussed, approved, and implemented.  The projects are searchable from the search bar in the top right of this screen, or they can be found by browsing through the main categories listed on the left.
Featured Projects

Dockless bike share will begin by fall 2018. Though it is not a service provided by campus, F&S is available to help answer questions about the program established by the university, the City of Champaign, and the City of Urbana. 
More information is available on the dockless bike share fact sheet and in the FAQ blog linked below.
For further questions, contact Active Transportation Coordinator Lily Wilcock at lwilco2@illinois.edu.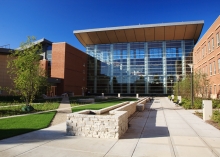 The University has adopted LEED Silver certification as a part of the Facility Standards on new construction.  Facilitites & Services tracks LEED status for new buildings and major recontruction.