Instructions
This site is a repository for summary information about each iCAP project.  Each project page includes a project description, contact names, funding details, location map(s), metrics and targets to measure success, current status of the project, and regular updates as projects are discussed, approved, and implemented.  The projects are searchable from the search bar in the top right of this screen, or they can be found by browsing through the main categories listed on the left.
Featured Projects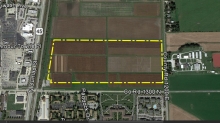 In order to reach the iCAP objective of 25,000 MWh/year of solar energy by FY25, additional panels will need to be installed.  Large scale, ground mounted panels appear to be the least expensive route towards achieving the FY25 objective.

Dockless bike share programs began in our community in Fall 2018. Although it is not a service provided by campus, F&S is available to help answer questions about the program established in a collaboration with the university, the City of Champaign, and the City of Urbana. 
More information is available on the Fact Sheet below and in the Frequently Asked Questions in the Bike Sharing Blog post below. For further questions, contact Facilities & Services at bike@illinois.edu.